Meet The Staff
Eric Satterlee, Owner
Eric is the founder (1984) and technical director of Meridian Winds in Okemos, Michigan. He began his repair apprenticeship in 1972 and has been learning ever since. He has presented numerous instrument repair clinics for the National Association of Professional Band Instrument Repair Technicians (NAPBIRT), the Michigan School Band and Orchestra Association (MSBOA), and the American School Band Directors Association (ASBDA). He has traveled throughout Europe on several occasions visiting repair technicians, and he has manned the booth at the Frankfurt Music MESSE representing Ferree's Tools, the world's largest maker of musical instrument repair tools. He holds certification from the Straubinger Flute company. Eric is co-inventor of the Magnetic Dent Removal System, which is manufactured and distributed globally from Meridian Winds. Besides holding a US Patent for the MDRS, Eric also holds several other patents related to saxophone enhancement.

Bruce McCall, Woodwind Repair Technician

Bruce McCall is originally from East Lansing, MI, where he graduated from East Lansing HS and earned a Bachelor of Music in Bassoon & Oboe at Michigan State University. He was a member of the US Military Academy Band at West Point where he performed on both instruments. Bruce took apart his first oboe while in the 6th grade and has been actively repairing woodwinds since 1976. He returned to his home town and joined the repair team at Meridian Winds in 2014. While very familiar with all aspects of woodwind repair, his experience is in the service of professionals and college-level players from across the country. For many years, Bruce operated his repair business from NYC while also working as a free-lance performer. He has presented numerous double reed repair seminars for the International Double Reed Society (IDRS), The National Association of Professional Band Instrument Repair Technicians (NAPBIRT), The Brevard Center, as well as at many universities across the country. Bruce holds certification from both Straubinger and Muramatsu, and he is the author of "The Essential Guide to Adjusting Your Oboe," which is available at Meridian Winds.
Dave Christenson, Brass Repair Technician
Dave has been a brass repair technician at Meridian Winds for many years. During his tenure, he has developed a very considerable following of brass players who trust him with their instruments. He is primarily a trumpeter but is well versed in all brasswinds. He is originally from a small town in Minnesota and graduated with a music degree from Union College. After being a band director for several years, Dave decided to follow the call to become an instrument repair technician. He attended the prestigious Redwing Technical College where he studied under master technicians Jon Huth and Gene Beckwith. Besides playing trumpet in various ensembles and brass bands, Dave regularly works with his church's youth sharing his musical skills.
Devon Gross, Accounts & Print Music Manager
Devon Gross has been involved with music all her life! She grew up with a band director as a mother, and although she decided not to follow her mother into music education, she did pursue music. Devon studied oboe with Dr. Lindabeth Binkley at Central Michigan University and graduated with a degree in Music and English: Creative Writing. Originally from Marshall, she has played many shows in the pit orchestra (Oboe and English Horn) for several theatre companies there and has continued to find theatre and other playing opportunities since moving to this area. She loves teaching private oboe lessons as well.
Eric "Bird" Wistreich, Saxophone Repair Technician



Hailing from Mishawaka, Indiana, Eric "Bird" Wistreich took apart his first saxophone on his living room floor in the 7th grade and has been interested in the mechanics of saxophones ever since. Bird attended Butler University as a saxophone performance major where he studied with Dr. Heidi Radtke and Dr. Matt Pivec. He went on to study brass and woodwind repair at the prestigious Red Wing Technical School in Red Wing, Minnesota. After his graduation in 2019, Bird joined the MW team and has logged several thousands of hours dedicating himself to the repair, maintenance, restoration, and modification of all types of saxophones. Additionally, Bird also manufactures Meridian Winds specialty saxophone accessories. During the 2020 pandemic shut down, Bird took up silversmithing and his new knowledge has since contributed to several shop projects.
Gary Beem, Repair Technician
Gary Beem began his instrument repair apprenticeship in 1975 while he was still a high school student. He is from East Lansing , MI where he graduated from East Lansing High School and his father was a band director. Gary is a percussionist and while in high school traveled internationally on several occasions with Blue Lake Fine Arts Camp bands. He has also been an active player in various community and big bands in the mid-Michigan area. Gary's repair skills are considered legendary with the many Meridian Winds repair technicians he has mentored during his over 30 years here. Whenever there is a particularly difficult repair in the shop that requires skills and experience, we "give it to the Beemer." Gary's lathe and fabrication skills in particular are well recognized. He has developed many methods for rebuilding instruments that have become standard practice in the industry. Gary was also instrumental in the development of the Magnetic Dent Removal System, and has logged more hours using the MDRS than any other technician. He is considered the foremost authority on use, technique and application of the MDRS. Gary never takes a vacation day during most of the year but don't look for him in the shop between the 15th and 30th of November during deer hunting season.
Sarah Ellul, Clarinet Repair Specialist
Sarah is a graduate of Michigan State University, where she earned a Master of Music in Clarinet Performance studying with Elsa Verdehr and Tasha Warren-Yehuda. She is also a graduate of Eastern Michigan University, where she studied clarinet performance with Dr. Kimberly Cole and Dr. Sandra Jackson. During high school Sarah studied clarinet with Dr. Kathy Wood and Dr. Meghan Merciers who both also received their advanced degrees from Elsa Verdehr. Sarah worked part time in the shop during her time at MSU and began her instrument repair apprenticeship upon graduation. She specializes in all aspects of clarinet repair, maintenance, and restoration. She also ensures that Meridian Winds' extensive inventory of clarinets are in excellent playing condition and set up to her exacting standards. Sarah is especially trusted for her expertise in working with Buffet-Crampon's line of professional clarinets. Besides her duties as Meridian Winds Clarinet Specialist, she also serves as the store manager.

Jake, Brass Shop Manager and Trumpet Repair Technician
Jacob

Hoskins is a native of Grand Ledge, Michigan where he graduated from Grand Ledge High School and was a trumpeter in the Grand Ledge Wind Symphony—under the direction of Risa Hsu.

Jacob

began his apprenticeship in the summer of 2018 while continuing his studies at Houghton College (located in western New York) for his Bachelor's degree in Music Industry and Business Administration/Management. While working on the completion of his undergraduate degree, he continued to better himself on the trumpet and by taking private lessons from Mark Thompson (Lansing Symphony Orchestra, Grand Rapids Symphony Orchestra, Count Basie Band in Chicago), Richard Stoelzel (former GVSU trumpet professor, current professor and chairman of Schulich School of Music of McGill University), Janette LaBarre (part-time member of the Rochester Philharmonic), and Derek Reiss (retired US Air Force Band member). Expertise obtained from them and others helped direct

Jacob

towards further understanding the physics behind the trumpet and its acoustic properties, while also contributing to his interest in pursuing a career in brass instrument repair.
Jacob

is the Meridian Winds Brass Shop Manager where he is tasked with the responsibility of organizing parts and supplies inventory, as well as purchase orders for the brass and woodwind repair departments. He is also actively involved in the restoration and research of vintage horns that have been owned by well-known university faculty and professionals around and outside of MI, such as from the estate of Byron Autrey and others.
In his spare time,

Jacob

is involved with large and small music ensembles such as the Lansing Concert Band and the Mountain Town Brass Band. He also likes being involved in the South Church in Lansing college ministry as a music team coordinator.
Zachary Weiler, Web Sales and Inventory Manager
Zachary Weiler is our Web Sales and Inventory Manager. Originally from Indianapolis, he attended Butler University and graduated in 2020 with a degree in Arts Administration and Marketing. At Butler, he studied saxophone privately with Dr. Heidi Radtke and played in a variety of ensembles. After graduation, during the 2020 quarantine, Zachary took virtual lessons with Indy jazz saxophonist Sean Imboden. Before joining the team at Meridian Winds, he interned for two nonprofit music organizations in central Indiana; The Indianapolis Symphony Orchestra and The Center for the Performing Arts in Carmel, IN. A baritone saxophonist at heart, he cites Gerry Mulligan, Joe Temperley, and Dexter Gordon as a few of his biggest influences.


Samuel Lock, Woodwind Repair Tech


Samuel Lock is originally from Fort Wayne, IN. He studied jazz saxophone at Ball State University traveled with the BSU Jazz Lab Band to perform in Switzerland, France, and Costa Rica. After graduation, Sam moved to Indianapolis and landed a job as a woodwind repair tech at a local music shop. He also taught lessons for saxophone, clarinet, and flute at Clinton Central Jr./Sr High School and privately in the Indianapolis area.



Melanie Cox, Woodwind Repair Tech
Melanie Cox is a native of Toledo, Ohio. She earned her Bachelor's degree in Music Education from the University of Toledo. She studied with Joel Tse (Principal Flutist of the Toledo Symphony Orchestra) and double bass under Norm Damschroder (Double Bassist for the Toledo Symphony Jazz Trio). After graduation, she went on to receive an Associate's degree in Band Instrument Repair from Minnesota State College Southeast Tech in Red Wing, Minnesota. Before joining the team here at Meridian Winds, she spent a few years working for different repair shops across the country including Maryland, Indiana, and North Carolina.
Bonnie Dee, Brass Repair Tech


Bonnie Dee is a brass technician at Meridian Winds. She has been repairing instruments for 3 years. She is originally from Dansville, Michigan. She is a french hornist. Beginning in her junior year of high school, she attended Interlochen. After Interlochen, she continued to pursue her horn playing at Northwestern where she studied with Norm Schweikert, a long-time member of the Chicago Symphony. Bonnie continues to perform, playing with the Lansing Concert band, the Mason orchestra, and occasionally with the Capitol city brass band and the Five Lakes brass band. When asked why she decided to get into instrument repair her answer was "because it's cool!"



Genevieve Brown, Flute Tech and Customer Service


Genevieve Brown is a native of Williamston Michigan. A flutist, in high school she won the Lansing Concert Bands "Kenneth Bloomquist Award" for outstanding Mid-Michigan high school student musician. She is currently a senior flute performance major at Valparaiso University studying with Cynthia Fudala. Gen has worked extensively with MW Master technician Bruce McCall and is our flute repair/customer service specialist. And…. She makes the absolute greatest red velvet cake in the whole round world!
James Rayle, MDRS Specialist and Clarinet Repair Apprentice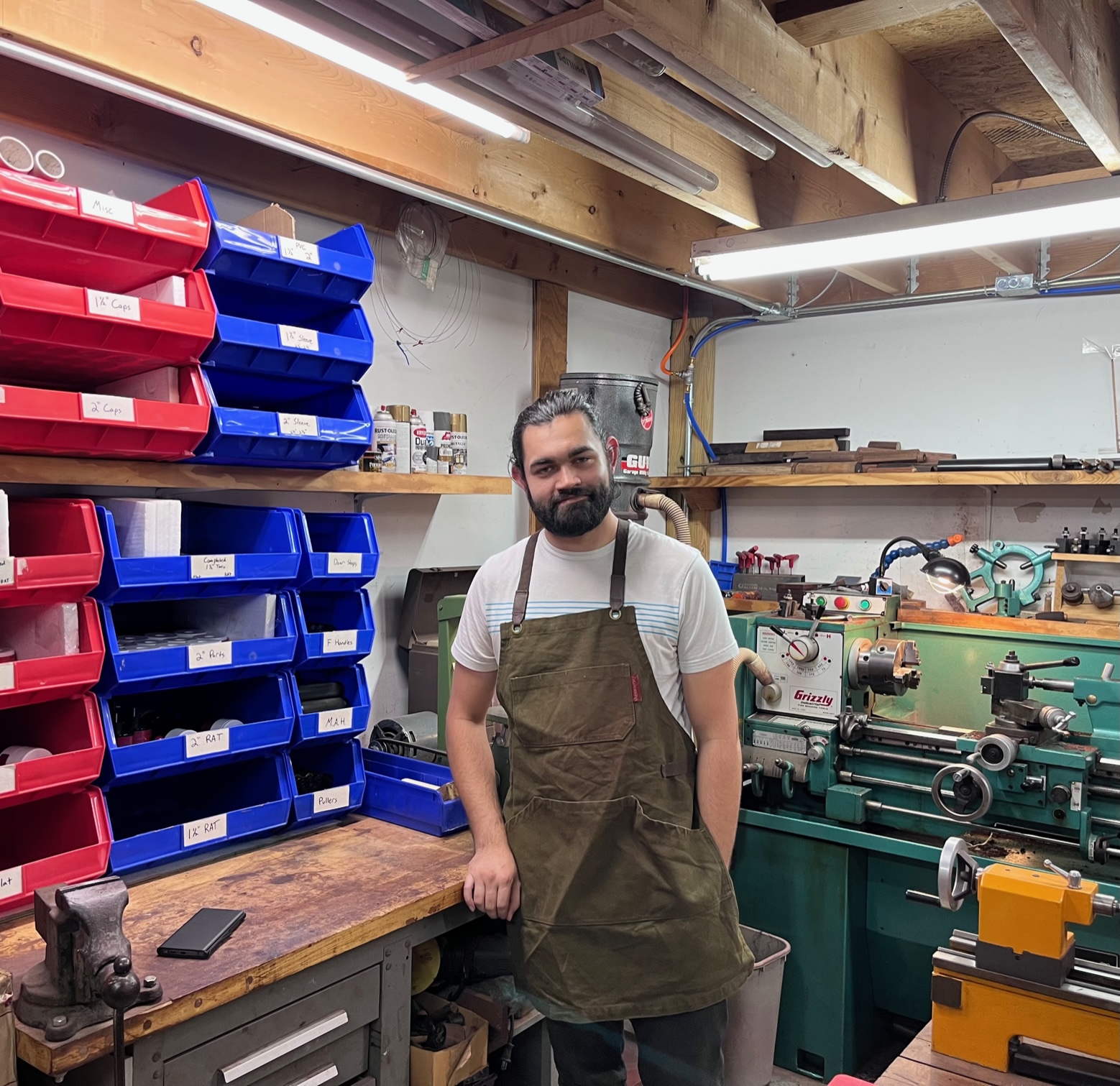 James is a recent graduate of The University of North Texas where he received his Master's in Clarinet Performance under the tutelage of Dr. Kimberly Cole Luevano and Dr. John Scott. He attended Eastern Michigan University for his bachelor's degree in Music Performance, studying with Professor Sandra Jackson. In 2021, James began repairing clarinets under Ann MacMillan in the UNT Campus Repair Shop. He then returned to his home state of Michigan where he was hired to take over as Meridian Winds' MDRS (Magnetic Dent Removal System) Specialist. He was also given the opportunity to continue his clarinet repair apprenticeship.